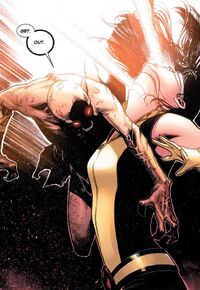 Powers and Abilities
Edit
The character did not receive a proper name in the comic with only a single reference to Fiend otherwise it was referred to as a personality with the image of Charles Xavier.
In an interview on CBR, writer Simon Spurrier commented, "We learn a lot more about the golden-skinned entity — whom the team has taken to calling "Professor-Y," just for the record — in episode #10, which is when the arc titled "Invasive Exotic" begins. Dum dum duuuum."
In X-Men: Battle of the Atom, the character appeared as a player card as one of Legion's Personalities and was named as Fiend.
Ad blocker interference detected!
Wikia is a free-to-use site that makes money from advertising. We have a modified experience for viewers using ad blockers

Wikia is not accessible if you've made further modifications. Remove the custom ad blocker rule(s) and the page will load as expected.