The Augmen were the result of weapon enhancement program developed by Winterbrand Corporation under the direction of its CEO Alain Weiss. They were being purposed as enhancements that could be given to Homo Sapiens to combat super-powered beings. Initially, the program attempted to use cybernetics but these proved to be unwieldy. Thus, the project switched to using grafts from Mutant donors in a process known as "Augmentation". However, it was discovered that only sub-adult specimens could accept the donated grafts and thus children were used for the program to create Augmen. The Augmen were given their superhuman powers through bleeding edge technology known as Cyberlinks that were connected to the spine of the subject. A key issue emerged in maintaining the superconductors as the heat generated prevented them from being used at their peak. After discovering the X-Man Iceman, Weissman sought to acquire him and use his powers to make a quantum leap in the research. To achieve that end, he coerced Bobby Drake's former girlfriend Opal Tanaka into bringing him into Hong Kong where he dispatched the Augmen to capture him.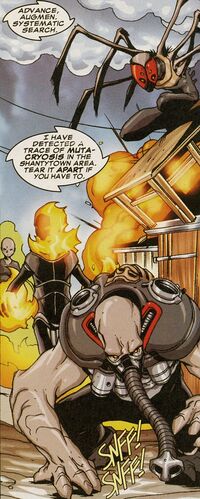 Ad blocker interference detected!
Wikia is a free-to-use site that makes money from advertising. We have a modified experience for viewers using ad blockers

Wikia is not accessible if you've made further modifications. Remove the custom ad blocker rule(s) and the page will load as expected.